︎︎︎The Alive Playground
---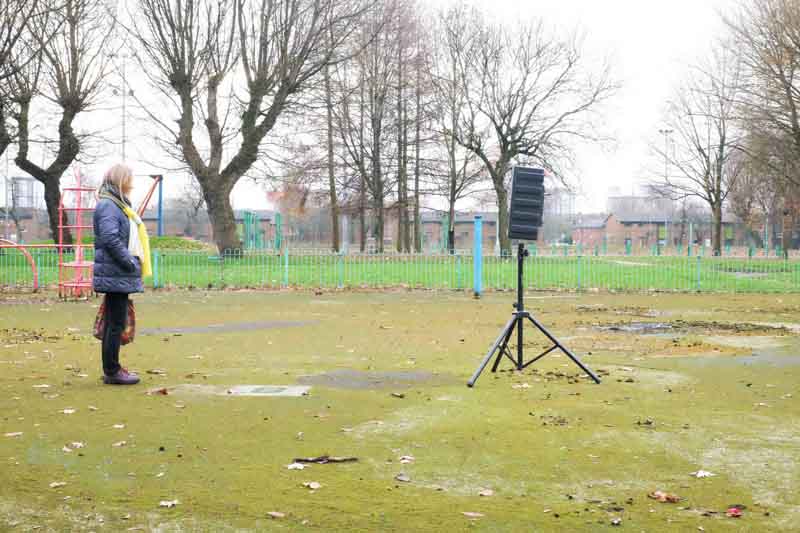 "The Alive Playground" foi uma intervenção sonora instalada em um playground abandonado em Pendleton, Salford, Inglaterra. Uma área que nos últimos anos que tem passado por diversas transformações urbanas, demolições, gentrificação e portanto possui uma grande quantidade de áreas residuais e abandonadas.
O trabalho "The Alive Playground" consiste em um auto-falante que reproduz o som de crianças brincando (gravado na escola infantil do bairro), em alto volume, em um playground abandonado e cercado no bairro. A ideia do trabalho é ocupar o espaço vazio com a presença do som das crianças, criando estranhamento e chamando à atenção dos passantes para um vazio que existe naquele espaço e ao mesmo tempo para a sua potência como espaço de interação.
Criado com a colaboração do IUD - Institute of Urban Dreaming e crianças da escola do bairro.

......
The Alive Playground was a sound installation in an abandoned playground in Pendleton, Salford, England. An area that in recent years has undergone various urban transformations, demolitions, gentrification and therefore has a lot of abandoned areas.
The work "The Alive Playground" consists of a speaker that reproduces the sound of children playing (recorded at neighborhood children's school) in high volume on an abandoned playground. The idea of the work is to occupy the empty space with the presence of the children's sound, creating strangeness and drawing the attention of passers-by to the void that exists in that space and at the same time to its power of the space as space for interaction.